West Malaysia Free Shipping Over RM150
Simba Suction Plate With Spoon & Fork Set + Simba Anti-scald Silicone Suction Bow
RM 76.00 RM 64.60
SKU:
HL-P9604-0 / P3341-0
We have run out of stock for this item.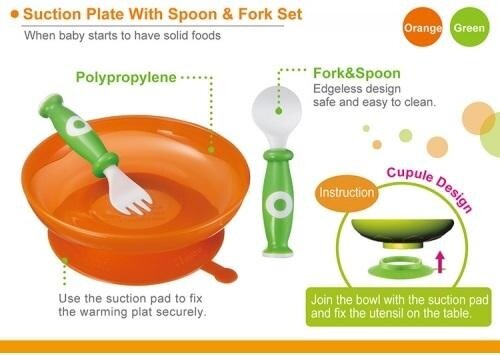 Features:
- Simba Suction Plate with Spoon & Fork set is designed especially for babies. The smooth and blunt edge
keeps babies from being hurt by sharp tableware. Extra round and thick handle design of the spoon & fork iseasy for baby to grab. The safe tableware set is ideal for parents to train their babies self feeding.
- The unique suction pad design under the plate is convenient for the ware to fix on any tables properly to avoidspill when eating. Quality food grade materials offer the best safety for baby!
Material:
- Bowl:Polypropylene (-20℃~+120℃)
- Suction Pad:Silicone (-20℃~+80℃)
- Spoon & Fork:Polypropylene (-20℃~+120℃)
- Handles: TPR Material (-20℃~+80℃)
Features
SGS safety certified product and uses only FDA approved food grade material.
All parts are BPA free,Phthalate free, lead free, and cadmium free.
Funny cookie shaped lid─Making mealtime fun and special.
Curved rims─Helps contain food,no more over-the-edge spills from self-feeding.
Handles─Designed to help moms hold on to the bowl while feeding babies.
Removable silicone lining─Silicone lining can be easily removed for easy cleaning.
Quality food grade silicone from Japan─No articificial coloring added. Heat resistance up to 200℃ / 392℉, sturdy and easy to clean.
Non-stick surface─Make each scoop smooth and effortless.
Unique suction cup─Helps secure the bowl on any smooth surfaces to prevent spills from self-feeding or accident.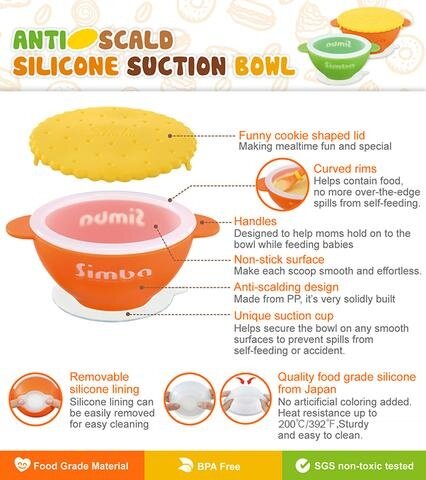 Material
Suction bowl:Silicone(-20℃~+200℃)
Lid/Simba frame:Polypropylen(-20℃~+120℃)